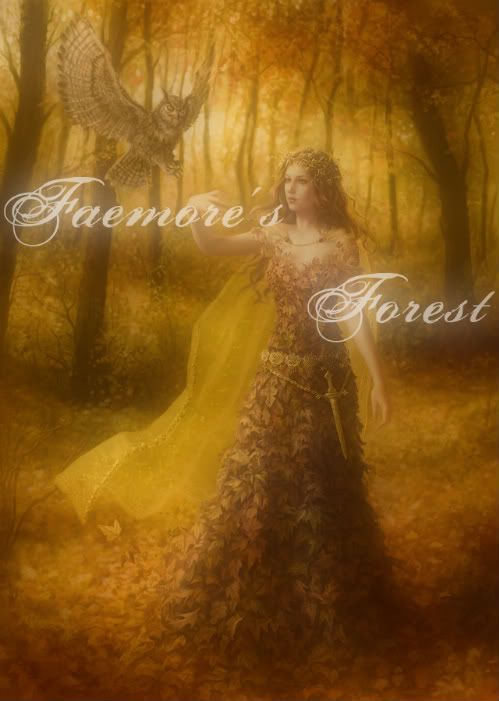 Welcome to Faemore's Forest, where faeries and witches, fauns and centaurs, gods and Baba Yaga's chicken-legged hut fly and roam and make their home. It is a wild and whimsical place, heavy with time and deep with secrets, dark with shadows and shimmering with that which is hidden, veiled and unseen.
Here the opalescent air is warm and frosty, and the leaf-carpeted earth is damp and crisp. Faeries wing my soul into whorls and spirals of sheer delight, as the wind hums to me his charming twilight lullaby, tinkling into the late evening, and bringing me the scents of autumn and berries, of cinnamon and wildflowers.
I can taste the magick sweet in the air and run my hand along the sleek backs of the zephyrs and breezes, and touch the soft words of the wise ones writ like a chorus amongst the dancing stars. You are cordially invited to take my hand and enter with me into the wonder of my world. Leshy, Matka and friends await.
Inhabitants Within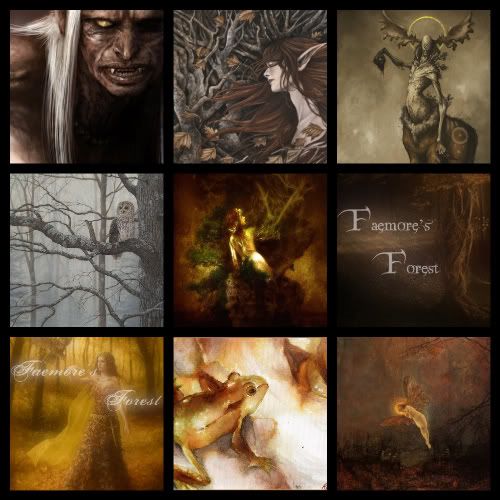 Myriad goddesses and gods reside in my forest. My woods are fulfilled with creatures and beings of wonder and magick, of mythos and lore. Through the trees I espy faeries twirling and flitting, as Baba Yaga flies across the floor of the forest in her giant mortar and pestle. In a clearing Lesovik appears as a large talking mushroom while Owl, our mutual companion, peers deeply into my soul from a nearby apple grove. Frog leaps from a dotted and speckled mushroom pad into dark unknown, nurtured by the sweet, moist, earthy love of mother Mati Syra Zemlya, She who nurtures all here. Many more still will be unveiled as I walk deeper into the realms of Earth and Spirit. Walk with me.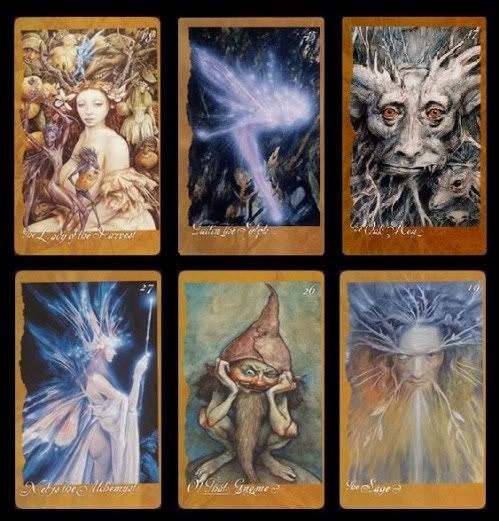 Beyond the grey green tendrils of a curtain of ivy vines hanging from the high canopy of my boreal trees, I see that a new troupe of faeries is taking up residency in my forest. My forest is frequented by froudian faeries. Losgunna, the Frog Queen, is often seen amongst the toadstools with her adventuresome and amphibious friends, leaping for treasures sunken deep within the earth. Himself is habitually observed under one tree or another, and often in contemplative conversation with Lesovik, when the two aren't busy fighting over whose tree it is, which happens quite often too. They are my oracles and my portals into Faerie, into who I am and the reasons why, into whimsical worlds and rapturous realms, into unseen things and undressed dreams. They bless me with the bounty of their beauty. Here now are some others, not quite so familiar, but for whom my whole heart still leaps in instant recognition and regard. The Queen of the Night and The Lady of the Unicorns are looking at us with a savage knowing in their eyes, and such sweet, naked smiles upon their lips. They are curious, as am I. I want to know them all I can. And together we shall.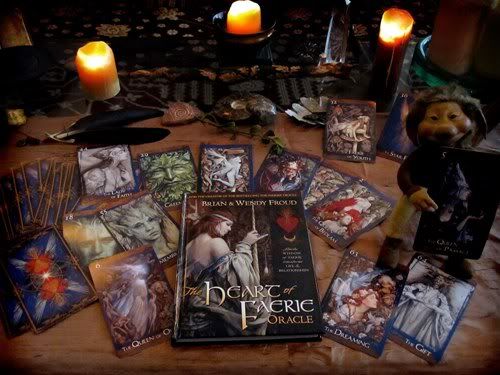 The Faerie Troupe
Before me is the Faerie Godmother, Sairie. She is beautiful. Her robes are amethyst like the dark forest dancing, illuminated by moonlight. On her left shoulder an Owl is perched, signifying wisdom, revelation and truth. She has a crown of faerie dust and stars, flowers and branches. She holds an apple in one hand and a pearl in the other. Her creepy cute friends peek at me from within the folds of her robe. She makes me smile, and offers me protection, and she gives me the gift of grace. It is a little touch
of faerie dust to lift my mood even higher than it already is. It is a giant, conspicuous miracle. It is everything in between. She bestows gifts upon me, everything she feels I need. She gives me choices and useful lessons, and reminds me that they are there. Sairie is that little touch of Faerie grace added to the mix of every moment, and she loves a celebration of life. I will invite her to all of my moments and celebrations from now on. From now on she is welcome to all of my festivities and special occasions. She glows when I love unconditionally and when I am kind. I want Sairie to glow for always.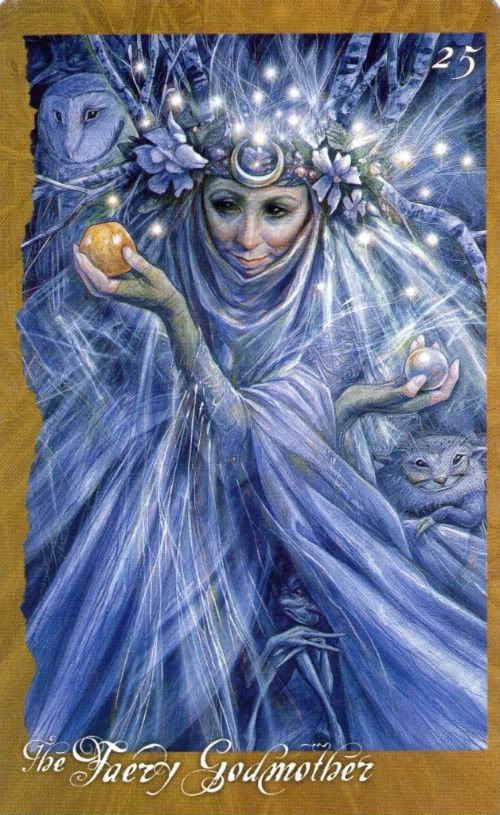 Next to her is The Dark Lady. She has wild eyes and a wicked smile. She is smiling at the Mysteries to which I seek to surrender. She is smiling at the knowledge I wish to know and the ecstasy with which we will know it together. She smiles at the dark moon which is her symbol and significance. Her eyes guard beings yet unborn, ideas yet unconscious and the tender, fragile, unready seeds yet to sprout in the dark and the cold of the embryonic earth. She is the overseer of the spiRitual, the dance we want to surrender to, the embrace we want to enfold us. She is the moment of empty, waiting stillness. She is the release. Her smile frightens me, her eyes tease me, tempt me, her arms call me home.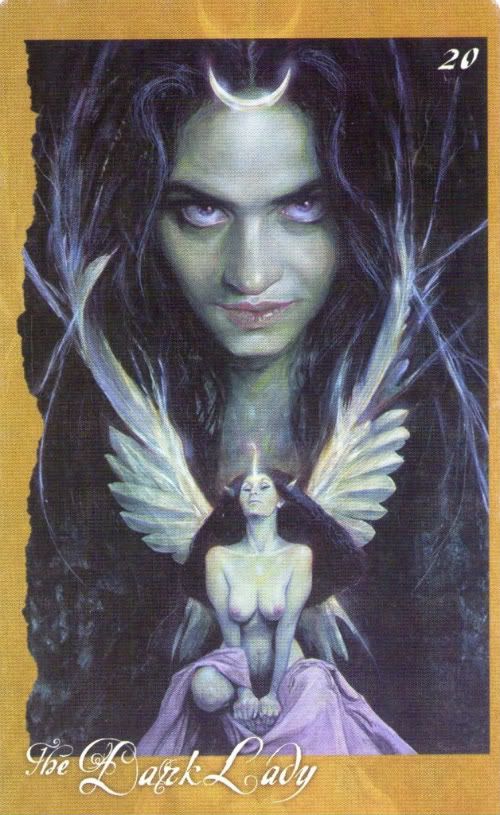 Beside them is Laiste, Moon's Daughter. She is the bringer of light in the darkness, and her presence illuminates my entire forest. She is the revealer and the concealer, and her bright and cloven faerie hooves light the path ahead of her, guiding me through the dark and leading me deeper into Heart. Laiste is a sphinx, and finding the answers to her profound riddles will give me the keys to the multiverse. She is the guide at the passage and the crossroad between the otherworlds, the worlds within, and the worlds without. It is she who, with her bright light, tends the Gate of Revelation, showing me the way through by illumination. Laiste wants me to waken and see all of the unseen magick and beauty and wisdom which the night contains. She wants me to be open to the great unknown, and to the mystical experiences that will teach me an expanded way to relate to the multiverse, all of the worlds and planes, spheres and dimensions together. Laiste is the daughter of the moon and an illumined child of Unity. She is here to let me know that so am I. She hopes I will reach for my highest self, my not-yet-actualised cosmic wisdom. She tells me I know far more than I know I know. Laiste wants me to explore the joyful spirits within me, like her, and the terra incognita or land unknown because that is where most of my potential and as yet unexplored wisdom lies. Laiste just winked at me. Now she is reaching into my deepest mind, opening long-closed doors, illuminating and revealing the uncultivated grounds of my being - my hidden senses and talents. She speaks to me in the language of symbols, as faeries often do, because the language of words can be so limiting. She speaks to me in the language of dreams and visions, everyday occurrences and all meanings. Through revelation and the ecstatic experience of the mystic, Laiste faces and leads us into the future, into the illumination of insight and newly accessed wisdom.
Down by the flora at their feet is Mikle a Muckle. He is a grig and he is merry and he wants me to be merry too, with a childlike open heart. He is a little thing, a tiny package filled with the best kind of goodness. Mikle's smile makes me feel foolish and silly, playful and absurd. He is fond of goofiness, considers play to be a form of art and himself a fine artist. His goofiness is contagious and he wants me to paint too. He is the child within who needs to play and to be cherished. He demands the clear, direct vision of a child and that we do as he does, and see things as they really are, and that we focus on the present moment, which is our place of power and play. This is where we do things, change things, and enjoy things. Mikle a Muckle is a great adventurer, an explorer of life. He is here to remind me that moments are magickal, one goofy grin at a time, and he wants to lead me to hidden, surprising places if I will let him. I will.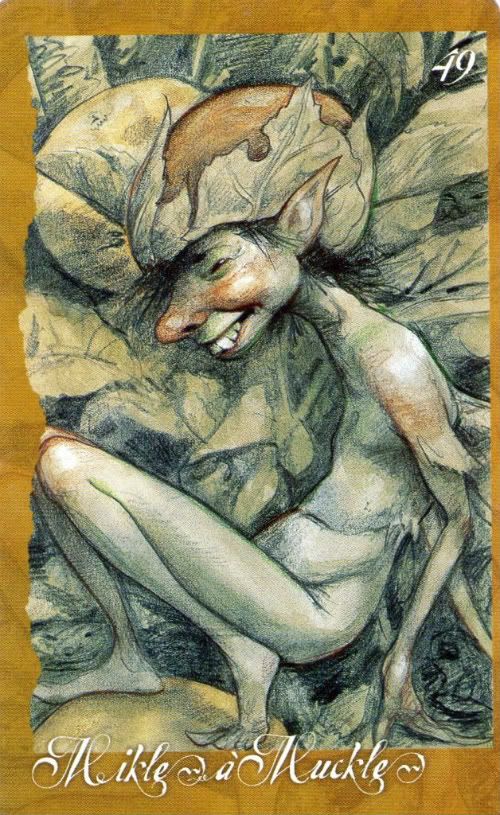 Behind them is a glow, that brightens and illumines the more my sight and sentience fixate and focus upon it. It is Ekstasis. It is the Song. It is the energy and power that fills Unity. There is suddenly nothing else but that song for me, just the infinite and eternal song, just the energy that completely fills eternity and infinity. Ekstasis is the rhapsodic song of bliss. It is what powers the cosmos and gives order and harmony. It is the song that holds the stars and the galaxies in their places. It is the song that keeps our heart beating, and it is the love and trust that flows through it. In Unity, there is nothing but the song, and Ekstasis is its Singer. Only our soul is big enough to hear it. The song rings through everything - the wind in the trees, the radiance of distance stars, the beat of a mouse's heart, the deep, purring, unheard hum of the Earth, like a gentle, slow patting on a drum, to which we her children dance. All are connected and everything is a part of the one song. Everything is a part of the Ekstasis.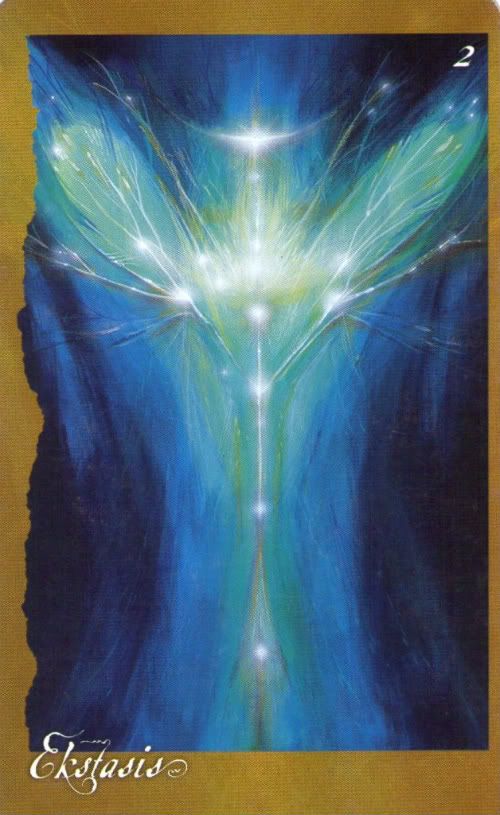 In reverence and awe I touch my hand humbly to my swollen heart and bow my head deeply as the Faerie Troupe passes by me, waving and winking, smiling sweetly and glowing as they go tripping along.
Devotional Song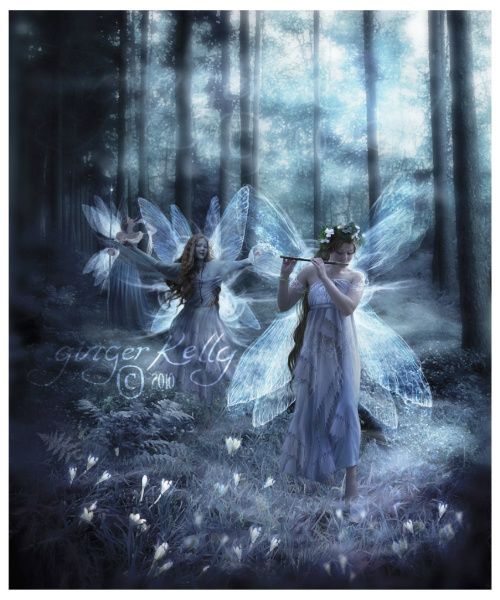 Up ahead I hear the most beautiful song I've ever heard. It is filled with such bliss that my soul bows beneath dulcet might of it, and my ears and eyes prick at the sweet reverence of its sound. It resonates beyond space and time, beyond worlds and realms. I wonder at the being that could sing such a song. And as I walk through the trees, into a brand new clearing before me, I am surprised to see who it is, and to see no one there, and to see every inhabitant of my forest all in one moment. The Voice is not the voice of a single being, it is the single voice of all beings, because all beings are one Being. All beings are One. My voice flings itself from my core involuntarily into the center of the Song, high, sweet and pure. It blends and melds, moves and flows, merges and shifts. I can no longer tell it is mine. Even as I sing, even as everyone here sings, only the one Voice can be heard. It is all we can hear. It is all we can know. It is beautiful beyond words. Ekstasis. It fills the forest with glowing, shimmering colour, with pure, prismatic energy. It fills me up, until my being is full and my wings are spread and stretched into forever. You may join me, and lend your voice to our Song.
Wonder-woven joys,
Rev. Faemore Lorei.
02.26.12 Aquarius.